What do you think of this woman above? Cantik? Cute?
The thing here is not about how beautiful or cute she is. Dia bukan diletak untuk dilelong kerana kecantikan paras rupanya. Errrr....I wonder what's the right words to use here? Dia memang untuk dilelong . Yes, her body. Tidak menghairankan? Mengapa anda fikir sebegitu? Mungkin kerana sudah terlalu banyak kes menjual badan sendiri di dark streets and online. Mereka ini selalunya kita panggil sebagai pelacur, pelayan khidmat seks, dalam bahasa Inggeris, prostitute, call girl dan macam-macam lagi yang mungkin hanya anda yang tahu. Hahaha!
Wanita tersebut bernama Catarina Migliorini, seorang warga Brazil yang mengaku bahawa dia masih dara pada umur 20 tahun. Tidak menghairankan? Of course bagi budaya kita, sudah sememangnya dara itu dijaga untuk lelaki yang akan kita kahwini. Tetapi bagi wanita dan perempuan Brazil,rata-rata sudah hilang dara pada umur 16 tahun dan ke atas. Tidak ingin mengulas banyak tentang itu. Semua itu bergantung pada budaya, persekitaran dan ajaran agama yang diterima oleh seseorang itu.
Isu disini bukan tentang umur seorang wanita kehilangan daranya. Tetapi...WANITA INI DIKATAKAN MELELONGKAN DARANYA SECARA ONLINE. Hasil daripada lelongan ini akan disimpan untuk dirinya sendiri dan selebihnya untuk sebuah badan NGO yang akan MEMBANTU KELUARGA-KELUARGA YANG MISKIN DI SANTA CATARINA, BRAZIL UNTUK MEMBINA RUMAH!
Bidder yang tertinggi akan berpeluang untuk melakukan this 'deed' di atas sebuah jet peribadi milik sebuah syarikat penerbitan Australia untuk sebuah rancangan berjudul, "Virgins Wanted". Semasa kejadian penting ini takes place, jet tersebut dikatakan akan terbang dari Australia ke Amerika Syarikat untuk mengelakkan tuduhan pelacuran.
Catarina Migliorini walaubagaimanapun tidak mengaku bahawa dia seorang pelacur berikutan daripada lelongan tersebut kerana dia mengatakan bahawa perkara ini hanya dilakukan sekali dalam hidupnya. Dia juga menyatakan bahawa dia melakukannya untuk tujuan yang baik selain menikmati wang hasil lelongan tersebut. Adakah perbezaan nya? Pandangan anda?
Dalam beberapa laman web yang saya telah layari, mengatakan bahawa lelongan Catarina Migliorini setakat ini telah mencapai sehingga USD 155000. Impressive and crazy at the same time. Lelongan ini akan berterusan sehingga 15 Oktober.
Walaupun, perkara ini dilakukan dengan kerjasama syarikat penerbitan, namun , tidak akan ada sebarang rakaman video untuk perbuatan tersebut. Pemakaian kondom adalah diwajibkan. Logik la kan..siapa tahu bidder tersebut pembawa STD( kalau tidak tahu, STD ini adalah penyakit-penyakit kelamin, la.). Free-free ja dapat penyakit woooo... rancangan tersebut hanya akan cover untuk sebelum dan selepas dara saja. Ini bukan rancangan porno. Ini rancangan yang gila no 2 selepas porno. Selain itu, bidder yang menang itu tidak diperbolehkan untuk kiss, hugs, or whatever form of foreplay ya.. Mereka hanya akan terus go straight to the point. Are you following this?
Ada pihak yang meragui mengapa bidder harus percaya bahawa Catarina Migliorini ini adalah dara yang sedara daranya? Wanita ini dikatakan berjanji untuk membuat suatu ujian untuk membuktikannya.
-Baiklah.
Sekian untuk perkara-perkara yang pelik dan gila yang berlaku diseluruh dunia. Hahaha.. Benda ini memang berlaku. Dunia...dunia...
Lihat betapa seseorang itu sangat terdorong sehingga gila hilang pertimbangan untuk melakukan kebajikan. Walaupun sebenarnya dia tidak pernah menyebut berapa banyak yang akan dia derma kan daripada wang lelongan tersebut. Dia juga bersikap jujur bahawa tidak semua wang tersebut akan diserahkan kepada kebajikan tetapi juga untuk dirinya sendiri. Hmm..saya tidak dapat mengulas dari sudut moral untuk perkara seperti ini. Hanya dapat menyampaikan maklumat ..Anda pula bagaimana?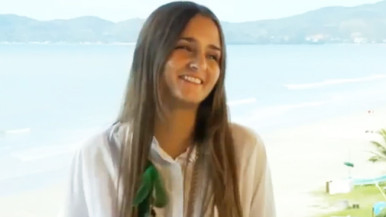 Despite the auctions, she told that she is very much a romantic person and still believe in love. Question marks, anyone?