Latest trend to try? There's long list to do but i am just very slow in catching up. Besides the ombre trends on hair and nail art there are also many electric bright colors that is back in the rack as to embrace spring and summer in 4 seasons countries. So does Asian, keeping up too this latest trends of this art of beauty. Bright colors like pink, green, blue and purple are worn from the brightest shades to darkest shades the cosmetics store has and they were all over the place! Nails, eyes and the lips! Colors are in!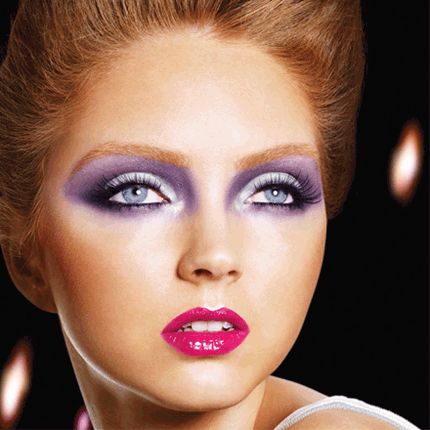 Dramatic wear purple eyeshadow
My newest muse, is purple eyeshadow (before was the pink). I had been using neutral like all my ages, to play safe. So,i was like, why not stepping out to try other color? Purple eye shadow is great to enhance green eyes but, also compliment very well with almost every types of eye color like brown and blue too.
From the runway to the red carpet, i come up with my version that is wearable for everyday look to replace the color safe of neutral. At least while purple is still in.
Some interesting fact: Purple used to be famous during the 80's. So does the saying, what can be trendy yesterday can be trendy again tomorrow.
I like this Taylor Swift look with purple eyeshadow. She brings down the diva-ness of the purple shades still with smokey eye effect but wearable.
I am using the Za Dramatic Eyeshadow in Violet. It does not creased or fade up until 7 hours of wearing though maybe the shimmers fades as hours passed. However, this cake is mediumly pigmented but if you just pat the dark shades on your lid instead of brushing it, it is okay.
I prefer using my own brush to apply this eyeshadow since the spongy things here, does not work in bringing out the color on the skin. Except for highlighting by the way, i will use the thinner tips.
I think purple eye shadow is great for day and even night time wears depending on which shades of purple one is using. Purple also have few tones of shades like violet, lilac,lavender, plum, and greyish. Lilac and lavender (softer shades) may looked more suitable for daytime however one needs to limit the amount of shimmers. Meanwhile the darker shades like dark violet and plum are more suitable for nightime and can looked very sophisticated and diva for party.
Despite purple shades is said great for teens, you can avoid teensy looking by opting to wear the deep purple tones, violet or plum. Me, on the other hand whom a big fan of smokey eyes, prefers to wear combinations of purple tones to create gradations to bring out the smokey effect.
So i come out with my version, which for me is wearable to work and even for just chilling in the weekend.
Looks quite thick when i close my eyes, but when open, it looks like only a wash of purple colors on the lid. This due to my eye shapes. I haven't figure what's the name yet, by the way.
As you can see, there are gradation of shades of purple. One has to really blend the colors well into each other. You can start by brushing lilac shades to the crease of your eyes. Then use the soft pink on the lid, followed by the darkest shades of purple you have on the outer corner of the eyes by creating, v-shape. Put highlighter on the inner corner of the eyes and near the tear duct. If you have doubt that it does not goes obvious enough, put some more.
So, how do you think of purple shades wear daily for work? It does not hurt to try experimenting colors.